We're proud to announce brand new collection of Stamping Plates! Get entranced by two fantastic plates specially designed for spring containing very beautiful repeating floral patterns. Two additional plates include a dream inspired design perfect for unicorn lovers and a Safari theme with gorgeous silhouettes. All plates available today on WhatsUpNails.com

 

or

 

in our store in Chandler Mall (Arizona, USA)!

 
B037 Growing Beauty
Latch on to spring and enjoy the growing beauty of

 

our new stamping plate

 

specially designed for spring nails. Adorn your nails with an array of floral patterns and an adorable cactus!

 
B040 Safari Ride
Ride along on an African Safari with

 

our stamping plate

 

that covers African patterns with a fantastic silhouette of a savannah scene including elephants, water buffalo and giraffes!

 
B042 Head in the Clouds
Get ready to day dream yourself away to another planet with

 

this stamping plate. This delectable stamping plate will launch you into unicorn heaven and take you away for a balloon ride at the same time!

 
B045 Sprung on Spring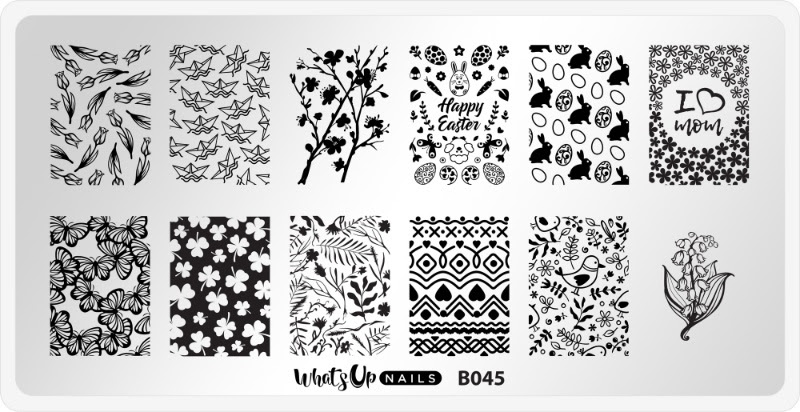 Spring brings new beginnings and

 

this stamping plate

 

is covered in them. Enjoy butterflies, scenes with ferns and adorable bunnies with eggs. Enjoy a sprung spring with this plate!