We are so proud to announce the release of our brand NEW eyeshadow brush set! Like our first collection, these six new brushes were hand made in Japan with uncut and undyed goat hair bristles. This new set was purpose built for detail work, hooded and small eyes.
Find all 6 ready to be added to your cart on our website WhatsUpBeauty.com or in store in Chandler, AZ.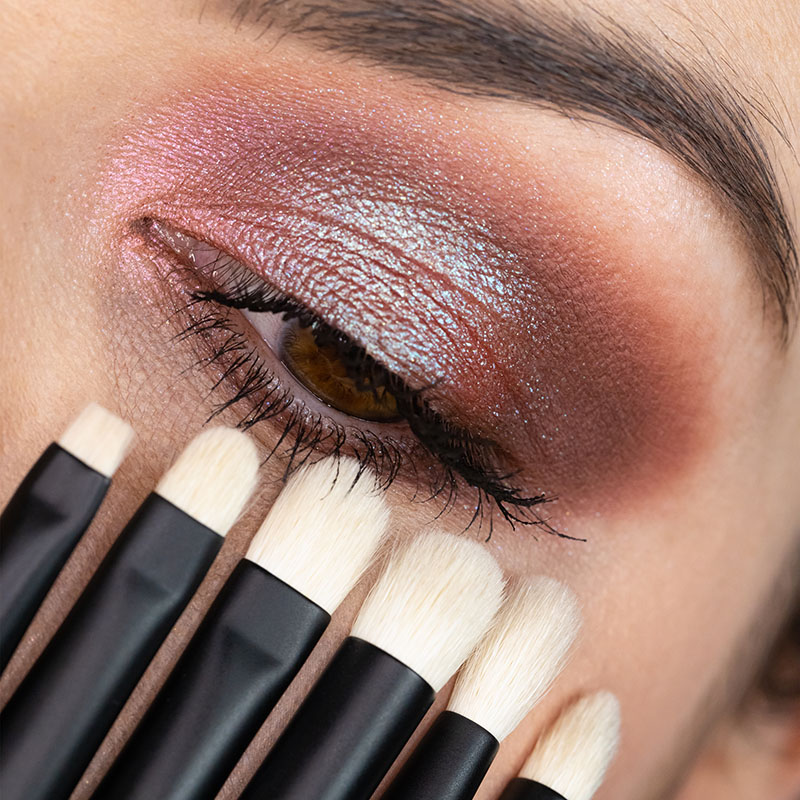 Designed from feedback provided by customers and influencers, the size of the brushes in this collection makes them both excellent for those who like accuracy and a perfect match for those with smaller or hooded eyes.
R107 Large Pencil Eyeshadow Brush - Built for accuracy this brush has bristles which come to a precise rounded point. This design helps add depth to the crease and perfect to blend under your eyelashes on the bottom lids. Additionally, this brush effortlessly blends and smudges the lash line, perfect for inner corner highlights and ideal for small and hooded eyes.
100% Goat Hair
R108 Precision Blending Eyeshadow Brush - The perfect petite precision blending brush to smoothly blend shades in small areas like your outer corners and under eye. The soft precise bristles will work smoothly to apply and blend matte shades to define the crease and be a goto blender for anyone with small or hooded eyes.
100% Goat Hair
R109 Domed Eyeshadow Brush - A hardworking multi-tasker great for targeted blending anywhere around the eye and small enough for the upper and lower lash line while versatile enough to create a smokey look. Use it to quickly smudge eyeliner or pack sparkly eyeshadows on your lid without fallout, the dense soft bristles are quick to blend and could even be used for spot concealing.
100% Goat Hair
R110 Flat Shader Eyeshadow Brush - An easy to use detail shader great for packing shimmers on lids or making the perfect cut crease. Great for quickly applying pigment and the perfect size for adding color in the middle and inner side of the lid and including the lower lash. Additionally, bristles are flexible enough for blending or to use with concealer and the size is ideal for small or hooded eyes.
100% Goat Hair
R111 Small Flat Shader Eyeshadow Brush - An extremely precise shader brush which is ideal for packing shimmer to your lids, inner corner highlights and applying concealer for a cut crease. With soft yet dense bristles, you will deliver color in the right place and is great for working close to your lashes or clean edges with concealer around lips and eyebrows.
Goat + Synthetic Hair
R112 Flat Eyeliner Brush - A delicate detailer with firm bristles, ideal for eyeshadow or gel eyeliner and the fine details around your eyes. Easily stamp eyeshadow near the lash or get into the roots and between the lashes themselves, a technique called tightlining. In addition you can use it for filling in eyebrows and applying concealer for cleanup.
Goat + Synthetic Hair